YOU WILL SPEND OLD AGE IN COMFORT AND MATERIAL WEALTH.
SNARKY RESPONSE: If this fortune cookie had the winning lottery numbers, I might, but without those I'll probably spend it with Southern Comfort.
Today, I decided to do something different. I'm going to share a little of my writing explorations with you.
I'm very active on fb - Denise Golinowski/Author - and folks are always posting these lovely evocative images. Anything and everything from lush landscapes to fantastical creatures to kick-ass warriors.
I used to just share them and comment on how they were "plot bunnies," but I never followed up.
Well for some time, I've been wanting to write something in the Steampunk genre, or at least on the Gaslight stage, and recently I've been seeing photos that grabbed my imagination with both hands, screamed "steampunk story" at me, and introduced me to a couple of intriguing characters - Lady Aimes and Professor Algenon. And it all started with this photo:
Frankfurt Metro Entrance
(Where, in an unexpected turn of events, Professor Algenon takes control of a runaway underground train and manages to drive it up through the pavement to avoid a head-on collision.)
Lady Aimes adjusted her hat and brushed dust
off her shirtwaist before fixing Professor Algenon with a stern gaze. "A unique way to avoid a straight-on disaster, but you could have just changed tracks back at the switch."
Professor Alegnon wiped a trickle of blood from his forehead and grinned. "But this was so much more fun!"
And a few hours later, I saw a photo of the Bridge of Sighs in Venice - not this exact photo, one taken at night with the canal was empty of gondolas, which set up this snippet: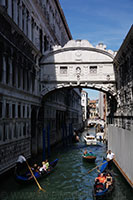 (Where Lady Aimes and the Professor try to escape some unsavory Venetians who have been up to no good. Unfortunately, Lady Aimes, who is a very frugal woman, did not anticipate the mercenary nature of their gondolier)
Lady Aimes peered over the side of the bridge at the empty water. "Where is that gondolier?"
Professor Algenon glanced over his shoulder toward the distant sound of footsteps and shouts. "Perhaps you should have tipped him more."
(Suffice it to say that they manage to escape not only their nefarious pursuers, but reached the safety and sanity of London with their adventure a success - a disaster averted and a dastardly inventor jailed)
Before the end of that day, a final photo of a beautiful glassed in solarium provided a final scene for the Intrepid Lady Aimes and Professor Algenon (I apologize, but I could not find a comparable photo - imagine if you will a glass roofed solarium with lush greenery and a tea service set on a table between two cushioned wrought iron chairs):
Lady Aimes sank onto the seat cushion with a sigh of relief. "Home at last. Professor, you seem to relish outings like today's, but I, for one, am determined to stay in tomorrow."
Professor Algenon looked up from the stack of correspondence on his lap. She couldn't tell if the sparkle in his blue eyes was from excitement or sunlight on his glasses. "I'm sorry to hear that. I just received an intriguing missive."
She leaned forward, sensing a rise of regretable excitement. "Do tell."
Now I'm captured by these two intriguing characters and have plans to flesh out this first adventure and then follow them out into others as well. In fact, I worked on an opening scene for a second story while at RavenCon this year.
So, have you seen any good pictures or met any intriguing characters? I invite you to visit my fb page to see what other snippets I create and give me your thoughts/additions/etc.